Class 1 Truck Driving Lessons – We Provide Industry – Leading Class 1 Commercial Truck Driver Training That Gets You Hired! – Call +1 (604) 345-0094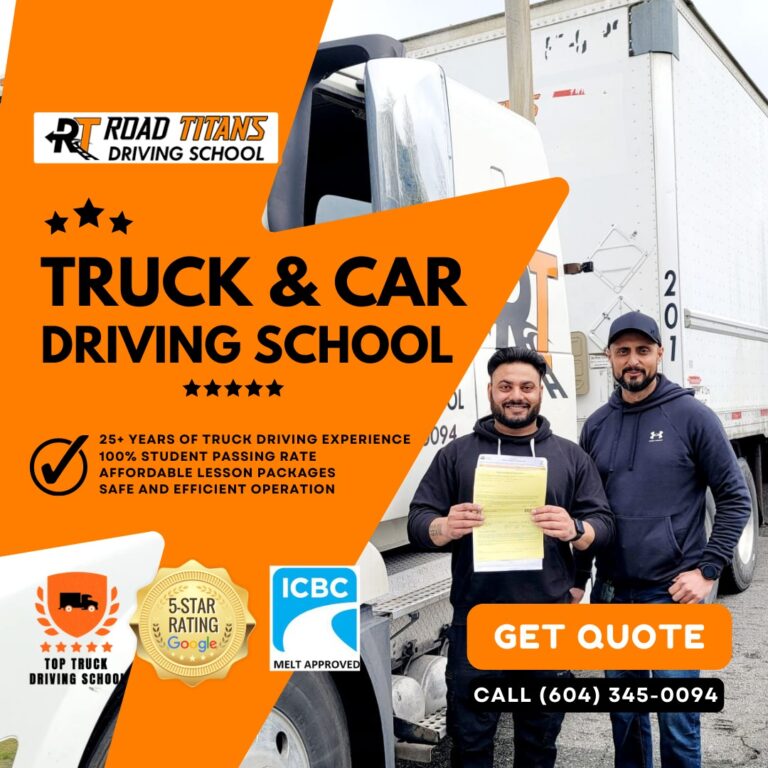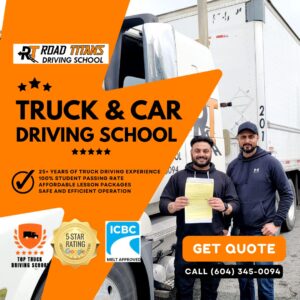 CLASS 1 License permits its holder to drive Truck and trailer, where the trailer is required to be equipped with air brakes. CLASS 1 License Permits the holder to drive any vehicle or a blend of vehicles other than a motorbike. Getting a Class 1 license will provide you with various employment opportunities in the commercial industry. Driving truck presents a lot of self-sufficiency. The climate can give one of a kind driving encounters, particularly in the region of British Columbia. People who prefer trucking as a profession appreciate driving to new places and working through the difficulties that this energizing industry can present. For those ready to be away from home for quite a long time or weeks all at once, long stretch trucking companies can offer a preparation program, sensible runs and great wages. For those needing to remain nearer to home prefer drive locally, driving dump trucks, buses meant for public transport, and big hauler trucks. All of which offer high wages and great perks.
We are Surrey's Top-Rated Truck Training Driving School
Road Titans Driving School is the industry leader in providing students the best lessons and Class 1 License training. We always ensure that every student is provided the and is fully prepared for any situation. Students, who complete their Class 1 License training here, will be provided with best instructors with years of experience. We provide each student with one-on-one lessons which is a vital part of our teaching technique.
All of our instructors are fully certified and come with years of truck driving. As a reputed driving school, all of our instructors are certified by ICBC and each instructor goes through internal training to ensure that every student is provided with industry best lessons. At our driving school, we provide a safe and secure environment for shunting trucks, practice off-side and near-side reversing.
Truck Driving Lessons Provided by Expert Instructors
If you have a small amount of experience with driving trucks, then we recommend that you enroll yourself with Road Titians, one of the best truck driving schools in Surrey. You can always count on us if you require commercial truck driving lessons to help you qualify to be a professional truck driver. We offer comprehensive, up-to-date courses that are required to operate tractor-trailers and other large vehicles. Call our team of driving experts today at 604-345-0094 to get on the road to begin your journey towards a successful driving career.
There are over 12,000 different jobs to select from, each with different levels of job satisfaction, job security, earning potential, and ease of entry. If you're seeking a job that excels in all of these areas, becoming a commercial Class 1 truck driver might be the right fit for you. It can be a gratifying and exciting career, as well as one that is reasonably simple to enter. You may prepare for a career that is in high demand and will always be looking for skilled people with the help of a Class 1 Surrey Truck Driving School.
Our Class 1 driving instructors have been training drivers for many years at Road Titans Driving School in Surrey, BC, and have helped many of drivers achieve their commercial driver's license (Class 1 truck driving license) and begin their new careers. Class 1, Class 3, Class 4, Class 5, and Class 7 licenses are all available for training at our Class 1 truck driving school. We are dedicated to assisting our pupils in learning the fundamentals of driving a vehicle and safe driving techniques. Our Class 1 Driving Instructors will employ the most effective teaching methods to calm concerned students and ensure that they are competent and ready for the road. With our skilled Class 1 truck driving tutors and customized training programs to address a variety of demands, you may improve your driving skills. Contact our Class 1 Truck Driving staff today to take the first step toward a career in trucking.
✓ MELT Approved Training Surrey
Click here to view our License Courses: